Feedback From Google Summer Of Code 2021
Written by Sue Gee
Thursday, 02 September 2021
Google Summer of Code is a program for students who want to spend their summer break "flipping bits not burgers". 2021 was the 17th year of the program and back in June 1,286 students, paired with 199 open source organizations started their 10-week stint of contributing to open source projects.
GSoC is used to being an online program so there was no need to change the format in light of the pandemic, but there were significant changes for 2021. In particular the length of commitment was reduced to 175 hours over 10 weeks and to reflect this the amount of stipend paid to students was halved.
While the number of open source organizations was down slightly from 206 in 2019 to 199, the number of students accepted was slightly more - 1,286 compared to 1,276 in 2019. The students came from 69 countries, including the first ever student from Zambia. The country with the largest number of students (554) was the United States, followed by India (302); Germany (185) and United Kingdom (152). In terms of prior experience:
91% were participating in their first GSoC
76% were first time applicants to GSoC
79% participated in open source before GSoC 2021
In terms of their studies the majority (70%) were computer science majors, 3% were Mathematics majors, 2% Physics majors, and many from engineering fields like Mechanical, Electrical, Bio, Environmental, Civil and Chemical were also represented.
This year 2,143 mentors from 75 countries were assigned to student projects. Mentors were a mix of past GSoC students (25%) and former Google Code-in mentors (16%). While 14% were long-time mentors, having participated of GSoC for 5 years or more years, an equal percentage were new mentors.
At the end of the program, 1,205 students from 67 countries had successfully completed this year's program and feed back from the student evaluations indicate that:
96% of students think that GSoC helped their programming skills
99% of students would recommend their GSoC mentors
94% of students will continue working with their GSoC organization
99% of students plan to continue working on open source
36% of students said GSoC has already helped them get a job or internship
72% of students said they would consider being a mentor
88% of students said they would apply to GSoC again
In past evaluations, a number of students have requested a 'Student Summit' in order to help connect their GSoC experience with the wider open source community. The first such event was held, virtually of course, on August 27th. Over 275 students attended the virtual summit and talks were presented by Googlers, GSoC mentors and former students who shared their personal and professional path to GSoC and open source. Students were also able to ask the presenters questions and participate in trivia games to win prizes!
According to Romina Vicente, Project Coordinator, Google Open Source Programs Office:
More importantly, the summit was a place and time where students from around the world could come together and celebrate their GSoC accomplishments. Inspired by what they learned from the summit, the students know that while their GSoC time has ended their open source journey has just begun.
---
GNU At 40 Celebrations
15/09/2023
The GNU System is about to turn 40 and to mark the occasion the Free Software Foundation has organized two events. There's a family hackday in Boston, USA taking place on October 1st and a hacke [ ... ]
---
Unicode 15.1 Released With More Hieroglyphs
22/09/2023
Unicode 15.1 has been released, hot on the heels of Unicode 15. The latest standard adds two new scripts and 4,500 new characters, along with 20 new emojis and extended support for hieroglyphs.
More News
Summer SALE Kindle 9.99 Paperback $10 off!!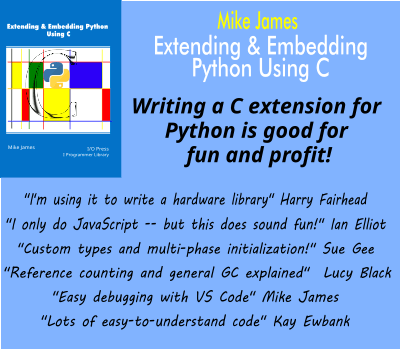 Comments
or email your comment to: comments@i-programmer.info
Last Updated ( Friday, 19 November 2021 )