Robots That Can See Through Walls
Written by Harry Fairhead
Thursday, 21 August 2014
Using WiFi signals a pair of robots can detect unseen features behind thick solid walls and can differentiate between materials, giving the ability to detect the presence of humans.
Robots usually "see" using lasers but this doesn't let them see through concrete walls - not unless the lasers are really, really powerful.
Such walls also pose problems for WiFi signals.
However, researchers at the University of California, Santa Barbara led by Yasamin Mostofi use wave propagation modeling and sparse signal processing to provide information about the area enclosed by thick block walls.
In the video two autonomous robots are presented with a simple structure - a hollow square with a pillar in the middle. By one of the pair sending WiFi signals to the other they scan the area that is hidden by systematically travelling around it. The researchers also suggest that a more randomized path might allow them to also work effectively in areas that present obstacles to their movement.
Later in the video the occluded object inside the walls is a person, and the high resolution image obtained reveals his presence. As the technology has the potential to classify the material type of occluded objects and thus distinguish between humans, metal and wood, its use with robots opens up many possibilities in rescue or disaster scenarios.
As pointed out in the video, technology is not limited to robots. It can equally well be implemented on a WiFi-enabled gadget or a WiFi network, allowing it to be used to monitor the presence and location of objects and people throughout many types of built space, This means it could have a role in detecting intruders or watching over the elderly. It could also provide information for smart building applications to optimize services that depend on the level of occupancy of a building, such as heating and cooling.
---
AI Beats Theory And Racing Drone Pilots
17/09/2023
Which is better - traditional optimization theory, human pilots or AI reinforcement learning? The answer is, of course, AI but perhaps not for the reasons you might suppose.
---
Access LLMs From Java code With Semantic Kernel
29/08/2023
You can now do this thanks to Microsoft's Semantic Kernel SDK which integrates Large Language Models (LLMs)
with conventional programming languages like C# and Python. The Java binding has recently bee [ ... ]
More News
Summer SALE Kindle 9.99 Paperback $10 off!!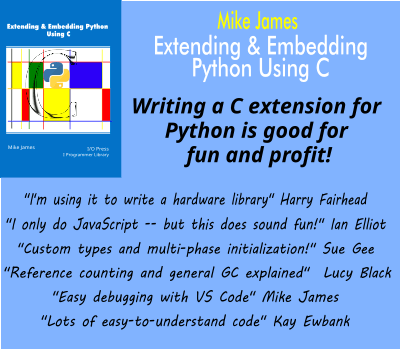 Comments
or email your comment to: comments@i-programmer.info
Last Updated ( Thursday, 21 August 2014 )