Chrome Takes Over Web - Blocks Edge
Written by Mike James
Wednesday, 29 May 2019
There are some good things about having one dominant browser and there are some very bad things. Google's long past the "do no evil days", but is it really this evil now? It is claimed that Chrome is using its dominance to control the web.
At the end of last year the accusation was that Google was making changes to its websites so that they would work only with Chrome and specifically would not work with Edge.
How could you prove such an accusation?
Perhaps the changes were just accidents, poor programming, unintended consequences... It also provided a good reason why Microsoft decided to change from its own rendering engine to the same one that Chrome uses. Same engine makes it more difficult to craft changes that make Edge fall over, but Chrome takes in its stride.
Now we have another example of this imputed behavior. The new You Tube design is something users want to experience, but if they do they will have to experience it via Chrome. At the moment if you visit the new site with the new Edge, i.e. the preview version using the same rendering engine as Chrome, you will be greeted by a "browser not supported" message and an admonition to "get Chrome". It seems that Edge is blocked from using the user agent string.
This is interesting because it's not just Chrome throwing its weight about like a 900lb gorilla, but more a pincer movement. Chrome is the most popular browser so You Tube can favor it without losing many hits. You Tube is also a big enough and desirable enough site for it to matter that Edge isn't supported.
It could be just an "oops" rather than enemy action, but you can see the sort of power that Google has by owning the number one browser in conjunction with top tier websites. However, soon after the accusation that Google was targeting Edge, Andreas Gal, the former Chief Technology Officer at Mozilla, explained that he couldn't say that Google was targeting Firefox, it was more like death by a thousand cuts:
"There were dozens and dozens of 'oopsies,' where Google ships something and, 'oops,' it doesn't work in Firefox. They say oh we're going to fix it right away, in two months, and in the meantime every time the user goes to these sites, they think, 'oh, Firefox is broken.''
There are other more subtle pressures. Given that Chrome covers such a large portion of the market, why bother testing on any other browsers? After all, the new Edge and Opera should just work as they use the same rendering engine. I have to admit that while I personally haven't given up testing on a range of browsers, I'm doing development on Chrome first.
What all of this means is that, while we might set standards, what increasingly matters is not what the standards say, but how Chrome implements them.
We seem to be heading towards not a "works best in Chrome" world, but one in which it "works ONLY in Chrome". Near monopolies are a problem.
More Information
https://twitter.com/i/web/status/1123242157370822656
Related Articles
The Job's Not Done Until Edge Don't Run
Microsoft To Go Chromium Update: Confirmed
Chrome 10 Years Old - And It Seems A Lot Older
Firefox Quantum - Fast For Good
Microsoft Planning A New Browser
To be informed about new articles on I Programmer, sign up for our weekly newsletter, subscribe to the RSS feed and follow us on Twitter, Facebook or Linkedin.
---
Seasonal Deals From edX and Udacity
17/11/2023
The season of discount deals has arrived early. edX is offering a 20% off selected courses and program bundles for Cyber Monday. Udacity has an even better Black Friday Deal with 50% off sub [ ... ]
---
Holiday Gifts For Programmers
19/11/2023
As Black Friday looms, the well-organized among us are hitting the shops to be ready with our festive gifts, though I doubt many of us are as ready as the friend who told me they've already finished w [ ... ]
More News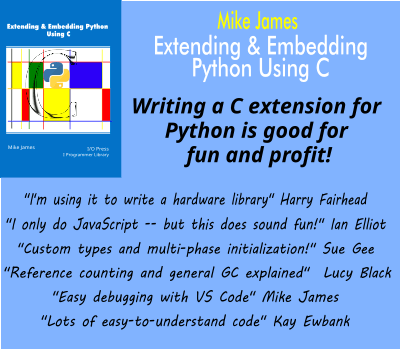 Comments
or email your comment to: comments@i-programmer.info
Last Updated ( Wednesday, 29 May 2019 )