Raspberry Pi Camera Upgraded To 8 Megapixels
Written by Harry Fairhead
Monday, 25 April 2016
The Raspberry Pi isn't just a low cost reasonably powerful CPU, it also has video processing abilities and an easy-connect, low-cost video camera which has just been upgraded to 8 Megapixels for the same cost, $25.
The Pi camera module and the Pi NoIR infrared camera have led to some of the most creative uses of the Pi. Everything from animal cameras to AI based vision projects.
The new camera is much improved on the original 3-Megapixel unit which offered the sort of resolution you would expect from a low end camera or smart phone. A high end smart phone generally provides 8 Megapixels or better. DSLR cameras are generally 24 Megapixels and up.
For comparison, a 3-Megapixel camera can provide a resolutions of 2048x1636 whereas the new 8-Megapixel camera works at up to 2280x2464. It can also work at 1080p at 30fps and 720p at 60fps - not 4K but very acceptable.
The Pi also has video processing hardware to make this possible - the VideoCore IV with its image sensor pipeline ISP:
"This converts "raw" Bayer-format RGB input images from the sensor into YUV-format output images, while correcting for sensor and module artefacts such as thermal and shot noise, defective pixels, lens shading and image distortion. "
The new auto white balance feature is able to recover the true colors in a scene irrespective of the color temperature of the illuminating light.
In theory the new Sony IMX219 sensor is also much better in terms of image quality, color fidelity and low light performance.
The $25 price is for a standard video module or the Pi NoIR infrared version. The only downside seems to be that it is still fixed focus, which limits its use in some close-up situations.
More Information
https://www.raspberrypi.org/blog/new-8-megapixel-camera-board-sale-25/
Related Articles
Raspberry Pi Photo Competition Results Are Stunning
OTTO - The Hackable Raspberry Pi GIF Camera
Raspberry Pi Gets A $25 Camera
Raspberry Pi or Programming - What shall we teach the children?
To be informed about new articles on I Programmer, sign up for our weekly newsletter, subscribe to the RSS feed and follow us on, Twitter, Facebook, Google+ or Linkedin.
---
Extent Of Buggy and Risky Open Source Code Revealed
08/03/2023
Almost all software contains open source code and the vast majority of codebases contain at least one know open source vulnerability. In addition codebases are made of of multiple components, many of [ ... ]
---
A Clock For 2023
05/03/2023
I have to admit I have a small passion for freaky clocks. They used to be hard to make, but now with powerful single-board computers and low cost displays they are not so difficult and the fun is inve [ ... ]
More News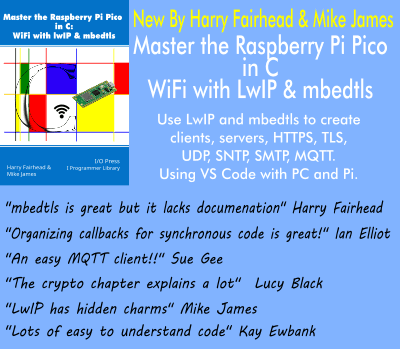 Comments
or email your comment to: comments@i-programmer.info
Last Updated ( Monday, 25 April 2016 )