Professional Credentials For Computer Science Careers
Written by Sue Gee
Monday, 04 May 2020
Page 2 of 2
edX - X and Professional Series
When edX was announced it was as an online venture from Harvard and MIT, bring some of their on-campus computer science courses to a wider audience - as well as to their own students. Soon it expanded to other US universities and then to universities worldwide and also partnered with Microsoft, W3C and more recently AWS, IBM and the Linux Foundation.
edX offers free access to its courses by way of an "Audit" option. However if you want to do graded exercises and courses count to an overall credential then you need to upgrade to the paid-for option. edX's MicroMasters - courses which earn credit towards a Master's degree - were covered in
Gain A Computer Science Credential In 2020
and here we'll focus on its XSeries and Professional programs.
It was back in 2013 that edX introduced its XSeries with multiple courses that formed a series either increasing in level or of topics related to one another. One of the very first put together the online versions of two well established MIT on-campus courses -
Introduction to Computer Science and Programming Using Python
and
Introduction to Computational Thinking and Data Science
. They formed a sequence designed to help people with no prior exposure to computer science or programming learn to think computationally and write programs to tackle useful problems. Then it had the title "Foundations of Computer Science" but now the XSeries is
Computational Thinking in Python
. It calls for a serious commitment of time - 14-16 hours per week over 5 months but it has certainly stood the test of time and is extremely popular. It restarts next month and costs $135 for the full program experience and a certificate on successful completion - although the courses taken individually remain free.
Another relevant XSeries,
AWS Developer Professional Series
is self-paced, which means you can start as soon as you enroll but you don't have a cohort of fellow students who are working on the same assignments at the same time. It is a sequence of of three 6-week courses which covers building, deploying and optimizing application of the AWS Cloud, working in Python on Linux and using a wide range of AWS tools. An an XSeries it cost $402.30.
Some of the former XSeries programs have now been expanded into the explicitly career-oriented Professional Certificate programs. They comprise:
series of courses designed by industry leaders and top universities to build and enhance critical professional skills needed to succeed in today's most in-demand fields.
A case in point is the
W3C Front-End Web Developer Professional Certificate
, which we explored when it was first offered as a mix of the existing W3C HTML and CSS courses on edX plus a new JavaScript course.
Other Professional Certificates have evolved from established edX courses. They include the University of Pennsylvania Computer Science Essential for Software Development and Introduction to Java Programming from the Universidad Carlos III de Madrid and Agile Development Using Ruby on Rails from the University of California, Berkeley
Coursera - Specializations and Professional Certificates
Cousera introduced Specializations back in 2014 a few months after it introduced its Signature Track which was how Coursera first introduced a idea of paying for a certificate. According to Coursera's co-founder, Daphne Koller part of the rationale for paid-for certificates was to address the problem of student retention and that this was a successful strategy
In our Signature Track option, which offers students the option to pay a fee of around $50 to receive a verified certificate upon successful completion of a course, retention averages around 63% overall, 88% among the committed students [those who complete the first month].
As well requiring students to complete a group of related courses, all of them on the Signature Track, Specializations include a Capstone Project (or Exam) which
"offers students the opportunity to demonstrate their mastery of the series material".
Coursera now has 134 Specializations including many in Computer Science and Data Science that we have covered as they were introduced.
It was only in 2019 that Coursera introduced two new credentials - MasterTrack certificates, which are of interest to those looking to gain a Masters Degree and were covered in Gain A MOOC Computer Science Credential In 2020, and Professional Certificates. Coursera is partnering with IBM, Google among others in providing these programs that:
help you get job-ready for an in-demand career field in less than a year. Earn a career credential, apply your knowledge to hands-on projects that showcase your skills for employers, and get access to career support resources. Many programs also provide a pathway to an industry-recognized certification.
As with Specializations programs start at $39 per month after a 7-day free trial. We have already covered several of them:
and will cover others as they are announced.
More Information
edX - Algorithms & Data Structures Micro Masters
Coursera Professional Certificates
Related Articles
Gain A Computer Science Credential In 2020
Top Free Online Computer Science Courses
The Benefits of A Udacity Nanodegree
New Udacity Nanodegree In Data Streaming
Udacity Launches Data Scientist Nanodegree
Udacity Goes Further With Autonomous Vehicles
Artificial Intelligence Engineer Nanodegree From Udacity
Udacity's School of Cloud Computing
MasterTracks and Professional Certificates in Data Science on Coursera
W3C Front-End Web Developer Professional Certification on edX
Coursera Offers Google IT Automation With Python Professional Certificate
Coursera Professional Certificates In AI
Harvard and MIT Join Forces in edX
MasterTracks and Professional Certificates in Data Science on Coursera
Coursera Professional Certificates In AI
Coursera Offers Google IT Automation With Python Professional Certificate
---
Angular 16 Improves Reactivity
18/05/2023
Angular 16 has been released in what the developers say is the biggest release since its original rollout. The team says there are large leaps in reactivity, server-side rendering, and tooling
---
Microsoft Announces Fabric Data Analytics
01/06/2023
Microsoft has announced Fabric, a new data analytics product that combines elements of Microsoft Power BI, Azure Synapse, and Azure Data Factory into one unified software as a service (SaaS) platform. [ ... ]
More News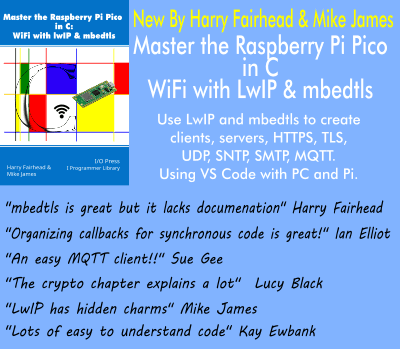 Comments
or email your comment to: comments@i-programmer.info
Last Updated ( Tuesday, 02 August 2022 )