Programming News and Views
Send your programming press releases, news items or comments to: NewsDesk@i-programmer.info
---
Nina Balcan Is ACM Young Computer Professional of 2019


09 Apr

|

Sue Gee



ACM has named Maria-Florina Balcan of Carnegie Mellon University as the recipient of the 2019 ACM Grace Murray Hopper Award, for influential and pioneering work in machine learning which has solved longstanding open problems.
---
Babel Improves JSX Optimization


09 Apr

|

Kay Ewbank



There's a minor upgrade to Babel ahead of the 8.0 release expected in the next few months. The current update adds support for TypeScript 3.8 and improves the optimization for JSX transforms.
---
Edge Becomes Second Most Popular Desktop Browser


08 Apr

|

Janet Swift



Microsoft Edge has increased its market share to the point where it has overtaken Firefox to become the second most popular browser on the desktop. The trends - upward for Edge and downward for Firefox, over the past few months suggests that this is a permanent and irreversible change.
---
ES2020 Finalized


08 Apr

|

Ian Elliot



The eleventh version of ECMA Script has just been finalized and we can look forward to some fun things as the year progresses. So what's new?
---
Smartphone App Borrows Power For Corona Virus Research


08 Apr

|

Kay Ewbank



Vodafone is asking smartphone users to help with a project aiming to speed up research to find a cure for corona virus. The Corona-AI project will be delivered through DreamLab, Vodafone's app originally aimed at helping cancer research.
---
Access ACM Digital Library for Free


07 Apr

|

Nikos Vaggalis



Due to the Coronavirus pandemic, the ACM (Association for Computing Machinery) Library has opened its virtual gates to non-members for free until June 30, 2020.
---
Google Announces Season Of Docs 2020


07 Apr

|

Kay Ewbank



The window for applications for Google's Season of Docs 2020 is approaching, and mentoring organizations will be able to begin submitting applications to Google from April 13. Season of Docs is a project supported by Google that aims to bring open source organizations and technical writers together.
---
Conferences Going Virtual


06 Apr

|

Nikos Vaggalis



Due to the Covid-19 planetary wide scare, many conferences instead of being canceled have gone purely virtual. To know which ones are choosing this delivery method Spokable has posted an ever-updated tracker of virtual conferences, at the moment covering over 40 online events.
---
Microsoft Shuts Down TechNet Gallery


06 Apr

|

Kay Ewbank



Microsoft is shutting down TechNet Gallery, the website where TechNet members could share scripts, tools, and guides for use with Microsoft products.
---
Power Cycle Your Boeing 787 To Keep It Flying


05 Apr

|

Mike James



Boeing has so many bigger problems that this one could go unnoticed, but it is of special interest to us programmers. The FAA has issued an order that 787s have to be switched off and on every 51 days.
---
March Week 5


04 Apr

|

Editor



Our weekly digest lists the week's news, new titles added to our Book Watch Archive and our weekly book review. This week's featured articles are an extract from Ian Elliot's JavaScript Async book and another chapter of Modern Java by Mike James.
---
Eclipse Releases Theia - Open Source VSCode Alternative


03 Apr

|

Kay Ewbank



The Eclipse Foundation has released Theia, described as a true open source alternative to Microsoft's popular Visual Studio Code. Theia is an extensible platform to develop multi-language Cloud and Desktop IDEs.
---
Free Access To 7,000 Pluralsight Courses


03 Apr

|

Sue Gee



Pluralsight is giving free, unlimited access to its entire library of more than 7,000 video courses for the entire month of April. The offer is open to new users who have to sign up but don't need to provide credit card details.
---
GitHub Security Bug Bounty Milestones


02 Apr

|

Alex Armstrong



GitHub recently passed $1,000,000 in total payments to researchers since moving its program to HackerOne in 2016. Over half its total awards were made in the last year alone, reaching almost $590,000 in total bounty rewards across its programs.
---
Visual Studio Preview 2 Revamps Git Functionality


02 Apr

|

Kay Ewbank



Visual Studio 2019 version 16.6 Preview 2 has been released with a number of improvements including revamped Git functionality and a new .NET Async tool.
---
Why Do Android Devs Convert To Kotlin?


01 Apr

|

Mike James



Not just why, but how? Moving an app from an existing language to a new one isn't something that happens every day, but since the advent of Kotlin it's more common than it was. So what is Java to Kotlin all about?
---
David Silver Awarded ACM Prize In Computing


01 Apr

|

Sue Gee



David Silver, best-known for AlphaGo, is the latest recipient of the ACM Prize in Computing. It is awarded for his breakthrough advances in computer game-playing and contributions to the "growing and impactful area of deep reinforcement learning".
---
New Udacity Web Developer Nanodegrees


31 Mar

|

Sue Gee



Ever since it introduced its project-based micro-credential, Udacity has offered Nanodegrees in Web Development. We take a look at the latest revision of the Full Stack and Front End Web Developer Nanodegree Programs while there is still time to take advantage of the Free Access for a month offer.
Other Articles
Book Review
---
MongoDB The Definitive Guide, 3rd Ed
Tuesday 07 Apr
Author: Shannon Bradshaw, Eoin Brazil and Kristina Chodorow
Publisher: O'Reilly
Pages: 514
ISBN: 978-1491954461
Print: 1491954469
Kindle: B082J7DMBX
Audience: MongoDB developers and administrators
Rating: 5
Reviewer: Kay Ewbank
This popular book, regarded by many as the MongoDB bible, has been updated to reflect the changes to MongoDB 4.2. Is it as good as ever?
Featured Articles
---
The Monty Hall Problem
Mike James
The Monty Hall problem is an exercise in probability theory that even experts get wrong. It seems to be subtle and even paradoxical, but when you notice exactly what is going on it becomes obvious. Read this article and I guarantee you will understand the Monty Hall problem and recognize when it occurs in other settings.
---
Fundamental C - Enumerations
Harry Fairhead
This extract, from my new book on programming C in an IoT context, explains what enumerations are all about. You don't need them but they do make your program easier to read and hence perhaps less error prone.
---
The IBM PC
Historian
The IBM PC the most boring computer ever designed and yet it is everywhere even today. How did this dominance come about and why isn't IBM more important today?
---
JavaScript Async - Avoiding State With Yield
Ian Elliot

One way to keep your UI responsive is to break a computation up into small chunks. The problem is that you have to record the state of the computation so you can restart it. Yield can be used to do this automatically. This is an extract from Chapter 4 of my book on JavaScript Async.
---
Building a Java GUI - Containers
Mike James
In this chapter of Modern Java we get to grips with the idea of a container that is used to host components to build a user interface. We also find out how the Swing GUI Builder generates code to make it all much easier.
Unhandled Exception!
Blockchain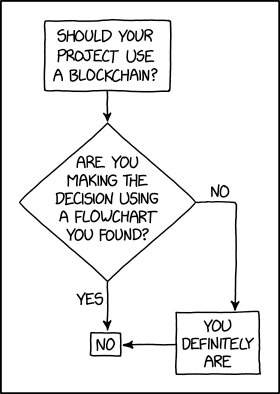 Click for larger image
Blockchain is a nice idea, but the situations that need it or can make good use of it without heavy layers of machinery that make it fit the case are few. Most programmers could tell you this once they know what a blockchain is, so why did it become the great wonder of the world and the solution to everything?
More cartoon fun at xkcd a webcomic of romance,sarcasm, math, and language
---
Book Watch

Follow Book Watch on Twitter

Book Watch is I Programmer's listing of new books and is compiled using publishers' publicity material. It is not to be read as a review where we provide an independent assessment. Some but by no means all of the books in Book Watch are eventually reviewed.
---
Hands-On High Performance with Go (Packt)
Wednesday 08 Apr
This Golang book aims to teach how to construct idiomatic Go code that is reusable and highly performant. Author Bob Strecansky starts with an introduction to performance concepts, then shows how to implement Go data structures and algorithms along with exploring data manipulation and organization to write programs for scalable software.
<ASIN:1789805783>
---
Java Performance 2nd Ed (O'Reilly)
Monday 06 Apr
In this practical book subtitled "In-Depth Advice for Tuning and Programming Java 8, 11, and Beyond", author Scott Oaks takes the approach that anyone who works with Java should be adept at understanding how code behaves in the Java Virtual Machine including the tunings likely to help performance. This updated second edition helps you gain in-depth knowledge of Java application performance using both the JVM and the Java platform
<ASIN:1492056111>
---
Competing with Unicorns (Pragmatic Bookshelf)
Friday 03 Apr
Today's tech unicorns develop software differently, according to Jonathan Rasmusson, author of this book. He says they've developed a way of working that lets them scale like an enterprise while working like a startup, and that these techniques can be learned.This book, subtitled "How the World's Best Companies Ship Software and Work Differently", takes you behind the scenes and shows you how companies like Google, Facebook, and Spotify do it. The book aims to use their insights, so your teams can work better together, ship higher-quality product faster, innovate more quickly, and compete with the unicorns
<ASIN:1680507230>
---
Modern Full-Stack Development (Apress)
Wednesday 01 Apr
This book explores what React, Node, TypeScript, Webpack, and Docker have to offer individually, and how they all fit together in modern app development. Author Frank Zammetti begins with explanations of the individual elements, then expands to constructing two different real-world apps. By the end, readers should have a solid grasp of building apps with React, Node.js, and TypeScript, as well as how Webpack can be used to optimize and organize your code, and how Docker can be used to run the apps.
<ASIN:1484257375>
---
Django 3 Web Development Cookbook 4th Ed (Packt)
Monday 30 Mar
The fourth edition of Django Web Development Cookbook is updated with Django 3's latest features to show how to develop web projects using the Django web framework. Authors Aidas Bendoraitis and Jake Kronikaa start from creating a virtual environment and project structure for building Python web apps before going on to building models, views, forms, and templates for web apps and then integrate JavaScript in Django apps to add more features. The book will take you through uploading and processing images, rendering data in HTML5, PDF, and Excel, using and creating APIs, and navigating different data types in Django.
<ASIN:1838987428>
More Book Watch
---
Previous Book Watch.
Follow Book Watch on Twitter.
Publishers send your book news to:
bookwatch@i-programmer.info
---