Programming News and Views
Send your programming press releases, news items or comments to: NewsDesk@i-programmer.info
---
Pool Cue With A Big Brain Algorithm


07 Mar

|

Harry Fairhead



Fancy having a magic pool cue that enabled you to pot the black without fail. Well this video shows how such a device can be built using an Arduino Uno - and it also reveals just how many man hours can be spent on hard-to-detect errors.
---
February Week 4


06 Mar

|

Editor



Our weekly digest lists the week's news, new titles added to our Book Watch Archive and our weekly book review. This week's first featured article comes from the newly published Micro:bit IoT in C, 2nd Edition. The second reveals how the async/await asynchronous programming facilities in .NET facilitate writing an elegant application that makes correct use of the UI.
---
JavaScript Still Tops RedMonk's Rankings


05 Mar

|

Mike James



The latest iteration of the RedMonk Language Rankings dated January 2021 shows no change at the top of the table, but there are some interesting movements lower down with TypeScript and Dart moving up while Ruby and Go are slipping down.
---
Watchy - Open Source E-Ink Watch For $55


05 Mar

|

Harry Fairhead



Watchy is a watch for hackers. Fully open-sourced it is powered by the ESP32 microcontroller which has built-in Wi-Fi and Bluetooth and can be programmed via the Arduino IDE. You can currently pre-order it in kit form for just $55, add $40 if you want an anodized aluminum case.
---
Microsoft Adds Error Analysis To Open Source AI Toolkits


04 Mar

|

Kay Ewbank



Microsoft has added a new toolkit to its collection of 'responsible AI'. The new addition is for Error Analysis and uses machine learning to partition model errors. As well as being available as open source kits,the AI tools are also integrated within Azure Machine Learning.
---
jQuery 3.6 Released


04 Mar

|

Ian Elliot




After a considerable gap between releases, jQuery 3.6 is out, bringing with it bug fixes and improvements. Despite what you might think, it is still very relevant.
---
What Makes Python Great & Greater


03 Mar

|

Mike James



In this second look at the results of the Python Developers Survey 2020, we focus on the features in Python that developers value and those they would like to see in future versions.
---
Microsoft's New Language - Power FX


03 Mar

|

Janet Swift




As if we didn't have enough computer languages, Microsoft has just announced yet another - Power FX - but it isn't as new as it might sound and you might want to argue that it isn't even a language.
---
Do Specifications Lead To More Secure Code


02 Mar

|

Alex Armstrong



A recent arXiv paper provides insights into whether program specification is a useful tool for security-related tasks. It also reveals that developers often fail to store passwords securely, despite claiming to be doing it right.
---
Hasura GraphQL Adds REST Support


02 Mar

|

Kay Ewbank



The open source Hasura GraphQL Engine has been updated with improvements including support for using REST and a GraphQL API gateway.
---
Google Jetpack Compose UI Toolkit Now In Beta


01 Mar

|

Nikos Vaggalis



Google has launched a beta version of Jetpack Compose, a new UI toolkit that is designed to make it faster and easier to build native Android apps. The developers say that Compose offers modern, declarative Kotlin APIs, that can be used to build "beautiful, responsive apps with way less code".
---
Amazon Amplify Adds Flutter And Vue Support


01 Mar

|

Kay Ewbank



Amazon Amplify, the open source library for interacting with cloud services that use JavaScript applications, now has support for Flutter and Vue 3.
---
AI Reanimation Brings Portraits To Life


28 Feb

|

David Conrad



A new AI-derived feature added to genealogy site, MyHeritage lets you see how a person from an old photo might have looked if they were captured on video.
---
February Week 3


27 Feb

|

Editor



Our weekly digest lists the week's news, new titles added to our Book Watch Archive and our weekly book review. This week's first featured article is an extract from JavaScript Bit Map Graphics with Canvas by Ian Elliot and in the second Mike James looks into the mysteries of the Genetic Algorithm.
---
Google Funding For Linux Security


26 Feb

|

Sue Gee



In an initiative that signals the importance of security in the ongoing sustainability of open source software, Google has announced that with the Linux Foundation it is providing funding for two full-time maintainers for Linux kernel security development.
---
New To Perl? What Do You Need? The Results


26 Feb

|

Nikos Vaggalis



The results and analysis of a recent survey into what help and guidance Perl beginners would find useful revealed that learning Perl can be a lifelong challenge and that more step-by-step tutorial might well help.
---
Open-CV Python Now Official Project


25 Feb

|

Kay Ewbank




OpenCV.org has announced that the popular and long-running package OpenCV-Python is now an official OpenCV project.
---
What is Python Used For?


25 Feb

|

Janet Swift



JetBrains and the Python Software Foundation have released the results of its latest survey to reveal the current state of the language, the ecosystem around it, including insights into who uses Python and for what purposes.
Other Articles
Book Review
---
WordPress Plugin Development, 2nd Ed
Tuesday 02 Mar
Author: Brad Williams, Justin Tadlock, John James Jacoby
Publisher: Wrox
Pages: 480
ISBN: 978-1119666943
Print: 1119666945
Kindle: B0899MW9CP
Audience: WordPress developers
Rating: 4.5
Reviewer: Kay Ewbank
The authors of this book are well-known in the WordPress world, with more than 100 published plugins between them. Of course, that doesn't mean they can tell other developers how to write plugins, but it's a good start.
Featured Articles
---
The McCulloch-Pitts Neuron
Mike James
Nowadays the McCulloch-Pitts neuron tends to be overlooked in favour of simpler neuronal models, but it was, and still is, important. It proved that something that behaved like a biological neuron was capable of computation and influenced early computer designers.
---
Micro:bit - Morse Transmitter
Harry Fairhead

The micro:bit has a built-in radio that can be used to create a very simple Morse code transmitter. This is an extract from the newly published second edition of my book on programming the micro:bit in C, now covering both the original version and V2.
---
Async, Await and the UI Problem
Mike James
The async/await asynchronous programming facilities in .NET solve one of its longstanding problems - how to write an elegant application that uses the UI correctly. But to avoid problems you still need to understand both the problem and the solution.
---
JavaScript Canvas - Read/Writing Local Files
Ian Elliot
When working with graphics eventually you need to read or write data to the local file system. In this extract from a chapter in my new book on JavaScript Graphics we look at how it works.
---
Introduction To The Genetic Algorithm
Mike James
Genetic algorithms pop up all over computer science and applied computing. They are simple, easy to apply and easy to understand. What mystery remains is why they work at all? How can something seemingly so random home in on a one in a million plus solution?
Unhandled Exception!
Depth and Breadth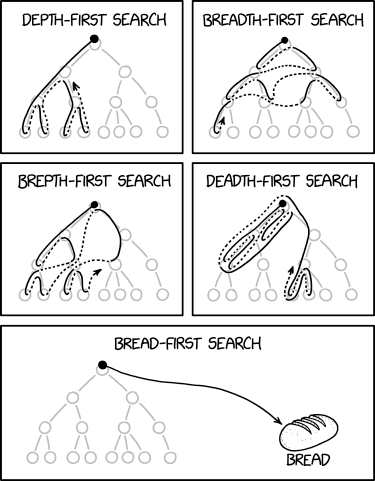 Click for larger image
Ah the joy of tree search. When you first meet trees computer science becomes real. Trees, branches, leaves it all sounds so real. Then someone decides to call them nodes and arcs...so abstract. Depth first, breadth first and, in my case, always bread first, but I am dyslexic.
More cartoon fun at xkcd a webcomic of romance,sarcasm, math, and language
---
Book Watch

Follow Book Watch on Twitter

Book Watch is I Programmer's listing of new books and is compiled using publishers' publicity material. It is not to be read as a review where we provide an independent assessment. Some but by no means all of the books in Book Watch are eventually reviewed.
---
Data Sketches ( A K Peters/CRC Press)
Friday 05 Mar
In this book, described as "A journey of imagination, exploration, and beautiful data visualizations", Nadieh Bremer and Shirley Wu document the creative process behind 24 data visualization projects, and combine this with powerful technical insights which reveal the mindset behind coding creatively. Exploring 12 different themes – from the Olympics to Presidents & Royals and from Movies to Myths & Legends – each pair of visualizations explores different technologies and forms, blurring the boundary between visualization as an exploratory tool and an artform in its own right.
<ASIN:0367000083>
---
Micro:bit IoT In C, Second Edition (I/O Press)
Wednesday 03 Mar
The BBC micro:bit is capable of taking on a variety of roles including that of a powerful IoT device. In order to gain full access to its features and to external devices, however, you need to use C which delivers the speed which is crucial when you are writing programs to communicate with the outside world. The updated, expanded, 2nd Edition covers the new V2 version of the micro:bit and uses the VS Code for offline development. Writing for the electronics enthusiast with a programming background, Harry Fairhead presents details of sensors and circuits with several complete programs and provides downloadable templates for both V1 and V2 of the micro:bit to help you get started.
<ASIN:1871962676>
---
Beyond the Worst-Case Analysis of Algorithms (Cambridge University Press)
Monday 01 Mar
Worst-case analysis, the cornerstone of most algorithm courses is where an algorithm is assessed by its worst performance on any input of a given size. The purpose of this book is to popularize several alternatives to worst-case analysis and their most notable algorithmic applications, from clustering to linear programming to neural network training. Tim Roughgarden along with forty leading researchers have contributed introductions to different facets of this field, emphasizing the most important models and results, many of which are suitable for beginners to the concepts of computer science and machine learning.
<ASIN:1108494315>
---
Fractals: On the Edge of Chaos (Bloomsbury)
Friday 26 Feb
This illustrated guide to the chaos of the natural world and the mathematics of fractals is aimed at anyone who has ever wanted to understand the patterns in leaves or the creation of snowflakes. Oliver Linton takes a journey into the mathematics of fractals, diving into everything from coastlines to carpets to reveal some of the intriguing patterns in science and nature.
<ASIN:1904263984>
---
Professional C++, 5th Ed (Wrox)
Wednesday 24 Feb
This book comes complete with a comprehensive overview of the new capabilities of C++20. Author Marc Gregoire explains each feature of the newly updated programming language in detail and with examples. Case studies that include extensive, working code round out the book.
<ASIN:1119695406>
More Book Watch
---
Previous Book Watch.
Follow Book Watch on Twitter.
Publishers send your book news to:
bookwatch@i-programmer.info
---