Programming News and Views
Send your programming press releases, news items or comments to: NewsDesk@i-programmer.info
---
November Week 5


05 Dec

|

Editor



If you've not visited I Programmer before, this Weekly Digest gives you a taster. It has links to our wide ranging news with its mix of analysis and comment. It also lists the week's additions to Book Watch Archive and our Book Review of the Week. This week also sees a new collection added to Programmer's Bookshelf of titles we've reviewed and recommended.
---
Top Presents For Programmers


04 Dec

|

Lucy Black



Without wanting to be obvious, it's been a strange year, and it's likely to be a strange festive season. The weirdness of 2020 has made it harder to find the right present to buy for your favorite programmer, but we've come up with some possibilities.
---
Five Reasons To Create and Control A Web App


04 Dec

|

Amy Rehan



A web application is more than just an ordinary website. Thanks to it, your customers can make purchases, make reservations and submit complaints, regardless of whether they do it on a computer, tablet or smartphone. In order to reach the widest possible audience, every service or sales company should invest in a dedicated web application. Here are the five most important reasons.
---
GitHub Supports Literate Programming Environment For Python


03 Dec

|

Kay Ewbank



GitHub has announced it is supporting Fast.ai in developing a new, literate, programming environment for Python called nbdev.
---
Jetpack Compose for Desktop Milestone 2


03 Dec

|

Nikos Vaggalis



Following its initial announcement of Jetpack Compose for Desktop last month, JetBrains has now announced Milestone 2, updated with a Swing interoperability layer.
---
AlphaFold Solves Fundamental Biology Problem


02 Dec

|

Mike James



Back in 2018, we reported on DeepMind's attempts to create a neural network that would predict protein folding. Now we have the news that it so good that scientists are queuing up to use it. What is the problem, why is it important and what does it mean that a neural network can solve it where physics can't?
---
Scratch For More Than A Brief Coding Encounter


02 Dec

|

Sue Gee



Creators of Scratch, Mitchel Resnik and Natalie Rusk, have come up with four guiding principles for introducing coding to young people. Their "Four Ps of Creative Learning" are Projects, Passion, Peers, and Play.
---
DataGrip Adds SQL For MongoDB


01 Dec

|

Kay Ewbank



DataGrip has been updated with support for SQL for MongoDB, Azure AD authentication and new extractors. The new release also adds Couchbase support, and better display of results with formatted values and images in the value editor and new data extractors. This is one of DataGrip's regular updates, the third this year.
---
State of DevOps Report


01 Dec

|

Janet Swift



This year's DevOps survey from Puppet focuses on two areas that can help organizations scale their DevOps initiative: a platform approach to software delivery and applying DevOps principles to change management.
---
Amazon AWS Invests In Rust


30 Nov

|

Mike James



No, it's not some strange deal on the mineral exchanges. After Mozilla threw the amazing Rust language under a bus, it seems companies are queuing up to support it. The latest, and perhaps the most serious, is Amazon in the form of AWS.
---
Visual Studio Integrates GitHub Accounts


30 Nov

|

Kay Ewbank



GitHub accounts are now integrated into Visual Studio 2019, meaning users of Visual Studio will be able to add both GitHub and GitHub Enterprise Server accounts directly from Visual Studio.
---
Too Good To Miss: Now We Are Baking - Graphics


29 Nov

|

Mike James



Some of our news items deserve a second chance. Here's one from December last year that fits our "To Good", or in this case "Too Tasty", "to Miss". It demonstrates the ability of computer graphics to be so convincing that you can almost smell and taste freshly baked bread and it's all down to maths!
---
November Week 4


28 Nov

|

Editor



Get up to speed on stuff that affects you as a developer! Our weekly digest summarizes the articles, book reviews and news written each day by programmers, for programmers. This week we also have an excerpt from the newly published Raspberry Pi IoT In Python Using GPIO Zero in which Mike James, our Python expert, teams up with our hardware guru, Harry Fairhead.
---
Google Offers AI Help To Create Fantasy Creatures


27 Nov

|

Kay Ewbank



Google has released a prototype AI-based tool called Chimera Painter that takes a basic sketch and turns it into a fantasy beast using machine learning.
---
The Most Important Features To Include In An E-Commerce App


27 Nov

|

Amy Rehan



An e-commerce application serves a clear and simple goal. To make it successful, there are several tips to keep in mind when starting a new project. Learn what they are, and create an effective e-commerce app for your, or your client's, brand.
---
Keep Up To Date With Microsoft's .NET Live TV


26 Nov

|

Nikos Vaggalis



Microsoft has a new portal for all its .NET and Visual Studio live streams. While the original Twitch and YouTube channels aren't going away, .NET Live TV provides easy access to what's currently on offer.
---
Electron 11 Adds Silicon Support


26 Nov

|

Kay Ewbank



Electron 11 has been released with upgrades to Chromium 87, V8 8.7, and Node.js 12.18.3. The new release also adds support for Apple Silicon.
---
Apple Is Playing With Us - App Store Tax Cut To 15%


25 Nov

|

Mike James



The headline news is that Apple has cut the percentage it takes from the App Store to 15%, down from 30%, but only if you don't earn more than $1 million per year across all your apps.
Other Articles
Book Review
---
Beginning Flutter (Wrox)
Tuesday 01 Dec
Author: Marco L. Napoli
Publisher: Wrox
Pages: 528
ISBN: 9781119550853
Print: 1119550823
Kindle: B07YCVJW2D
Audience: Mobile developers
Rating: 4.5
Reviewer: Sanjay Kanade
Flutter is Google's SDK for writing mobile apps using the Dart language. It needs a good book - does this one fit the bill?
Featured Articles
---
The Mod Function
Mike James
What has modular arithmetic got to do with the real world?
The answer any experienced programmer should give you is "a lot". Not only is it the basis for many an algorithm, it is part of the hardware.
---
AI Books To Inspire You
Kay Ewbank
Artificial Intelligence is an increasingly important subject for developers, and the books included in this bookshelf represent the best that we've covered in areas including machine learning, reinforcement learning, deep learning and neural networks and natural language processing.
---
Object-Oriented HTML Generation In PHP
Alex Armstrong

PHP is a programming language specifically designed to generate HTML pages, but one of the topics that is rarely discussed is exactly how to do this. In this article the idea that HTML generation should be object-oriented is proposed and explored.
---
Pi IoT In Python Using GPIO Zero - DC Motors
Harry Fairhead & Mike James

Motors are a central part of the IoT but they are often taken for granted. In this extract from a new book on using GPIO Zero on the Pi in Python we look at basic DC Motors.
---
Covariance And Contravariance - A Simple Guide
Mike James
Programming, and computer science in particular, has a tendency to use other people's jargon. Often this makes things seem more difficult. You may have heard of covariance and contravariance and wondered what they were all about. If you want a simple explanation that applies to any computer language, here it is.
Unhandled Exception!
Scientist Tech Help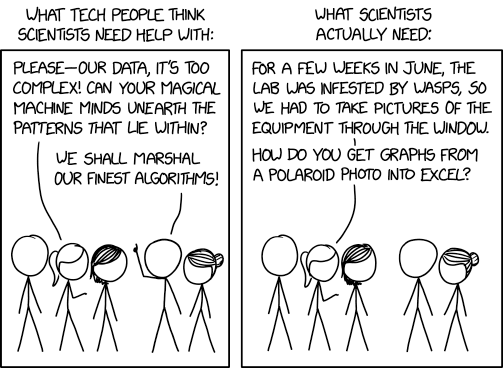 Click for larger image
So, so true. Not restricted to scientist tech help either. We often get hold of the wrong idea when it comes to providing any software. When we do find out what the user wants, it's often a big disappointment. I suggest this is why we hate requirements analysis. In an ideal world we should just deliver the toy that pleases us the most...
More cartoon fun at xkcd a webcomic of romance,sarcasm, math, and language
---
Book Watch

Follow Book Watch on Twitter

Book Watch is I Programmer's listing of new books and is compiled using publishers' publicity material. It is not to be read as a review where we provide an independent assessment. Some but by no means all of the books in Book Watch are eventually reviewed.
---
A Digital Signal Processing Primer (Dover Publications)
Friday 04 Dec
This is an informal and easy-to-understand introduction to digital signal processing, which as its subtitle indicates, emphasizes digital audio and applications to computer music. Ken Steiglitz provides a working knowledge and understanding of frequency-domain methods. The book also features questions and suggested experiments that help readers understand and apply digital signal processing theory and techniques.
<ASIN:0486845834>
---
A Tour of Data Science (Chapman & Hall)
Wednesday 02 Dec
This book covers the fundamentals of data science, including programming, statistics, optimization, and machine learning in a single short book. Nailong Zhang does not cover everything, but rather, teaches the key concepts and topics in data science. The book also covers two of the most popular programming languages used in Data Science, R and Python.
<ASIN:0367895862>
---
Modern Fortran (Manning)
Monday 30 Nov
In this practical guide, subtitled "Building efficient parallel applications", author Milan Curcic starts from the essentials of modern Fortran, with a focus on reusable modules, functions, and subroutines before diving into Fortran's unique approach to parallel programming with coarrays. He then systematically explores all the really interesting stuff: how to overload operators and generic functions, work with a variety of different inputs and outputs, and much more. Finally, readers will take on advanced parallelism with teams and events, and interoperability with C.
<ASIN:1617295280>
---
Python Programming for Beginners: A Kid's Guide to Coding Fundamentals (Rockridge Press)
Friday 27 Nov
This book teaches kids about Python and programming fundamentals―and is packed full of fun and creative activities to encourage learning, Patricia Foster starts off with the basics, explaining all about fundamental coding concepts and how kids can put these concepts together in Python to build their own games and programs.
<ASIN:1646113888>
---
Raspberry Pi IoT In Python Using GPIO Zero (I/O Press)
Wednesday 25 Nov
The Raspberry Pi makes an ideal match for the Internet of Things, and in this book Harry Fairhead and Mike James show how to put it to good use in IoT. To achieve this needs two areas of expertise, electronics and programming and because of the way hardware and software engineering tend to occupy separate niches, this book shows how to combine the two. The GPIO Zero library is the official way to use Python with the GPIO and other devices and this book looks at how to use it to interface to fundamental IoT devices – from LEDs and buzzers to servos and stepper motors and several off-the-shelf Raspberry Pi add-ons.
<ASIN:1871962668>
More Book Watch
---
Previous Book Watch.
Follow Book Watch on Twitter.
Publishers send your book news to:
bookwatch@i-programmer.info
---