Programming News and Views
Send your programming press releases, news items or comments to: NewsDesk@i-programmer.info
---
September Week 2


19 Sep

|

Editor



Get up to speed on stuff that affects you as a developer by reading news written by programmers, for programmers. We also select books of interest for programmers for review and to be added to our Book Watch Archive. And of course we feature extracts from titles in the I Programmer Library. This week it's from The Programmers Guide To Kotlin.
---
Microsoft Announces OneFuzz Framework


18 Sep

|

Kay Ewbank



Microsoft has announced Project OneFuzz framework, an open source developer tool to find and fix bugs at scale. The automated, open-source tool will replace the Microsoft Security and Risk Detection tool.
---
$200,000 Data Science Competition


18 Sep

|

Sue Gee



The newly launched C3.ai COVID-19 Grand Challenge is an international competition that invites participants to create new and innovative software solutions that provide data-driven insights to inform decision makers in the global fight against COVID-19.
---
Introduction to OAuth 2.0 and OpenID Connect


17 Sep

|

Nikos Vaggalis



Getting familiar with OpenID and OAuth is really difficult.There are dozens of specifications to go through, and to make things even worse the two protocols involve different terminology. To help out, Pragmatic Web Security offers a free and outstanding course on OAuth and OIDC 101.
---
Java 15 Reaches General Availability


17 Sep

|

Kay Ewbank



Oracle has announced that Java 15 is now generally available. The announcement was made in the opening keynote of Oracle Developer Live, an online version of the usual CodeOne and OpenWorld conferences.
---
C++ 20 Finalized


16 Sep

|

Mike James




C++ 20 has received final approval and the standard will be published by the end of the year. So it goes, languages grow and C++ seems to have no brake to slow it down.
---
Data Scientist or Data Engineer? Choose Your Path On Udacity


16 Sep

|

Sue Gee



There's no stopping the flood of data - 2.5 million terrabytes are created every day, so storing, organizing and analyzing data is becoming more important than ever. Udacity has refreshed the Nanodegree Programs offered by its School of Data Science and they start on September 23..
---
GitHub Announces Container Registry


15 Sep

|

Kay Ewbank




GitHub has launched a beta version of GitHub Container Registry, a service aimed at improving how containers are handled within GitHub Packages.
---
Promoted Add-Ons Pilot For Firefox


15 Sep

|

Sue Gee



Mozilla has announced a pilot program, ostensibly to give developers an opportunity to boost the discoverability of their Firefox add-ons, by having them reviewed and recommended. During the pilot. the service is free, but if successful a charge is likely to be introduced. Is this Mozilla treating developers as a source of revenue?
---
Amazon Braket Now Generally Available


14 Sep

|

Kay Ewbank



Amazon Braket is now generally available. The service provides access to quantum computing from a range of suppliers of both classically-powered circuit simulators and quantum computers from D-Wave, IonQ, and Rigetti.
---
Ruby On Rails Survey


14 Sep

|

Ian Elliot



The latest Ruby on Rails Community Survey from Planet Argon presents a wealth of information about Rails developers, and the tools they choose to use.
---
Did You Know Today Is Programmer Day?


12 Sep

|

Lucy Black




As last year Programmer's Day was September 13th, I imagined that tomorrow would be our special day. I was wrong. Because of the way it is calculated, for 2020, Programmer Day falls on September 12th.
---
September Week 1


12 Sep

|

Editor



This weekly digest is an extended version of the newsletter emailed to subscribers every Wednesday. As well as listing the week's feature articles and news items, it also includes the week's Book Review, additions to Book Watch and latest news from the I Programmer Library.
---
.NET Adds Latent Bug Discovery Feature


11 Sep

|

Kay Ewbank



Microsoft has added a new set of warnings for common coding mistakes and API misuse patterns. The warnings will be introduced in the C# compiler in .NET 5.
---
Learn About Serverless with The Linux Foundation on edX


11 Sep

|

Sue Gee



A new free training course that explains serverless computing and provides first-hand experience in building and deploying code directly to a Kubernetes cluster has just launched on the edX platform.
---
Google Anthos Adds Hybrid AI


10 Sep

|

Kay Ewbank



Google has announced improvements for Anthos, its application packaging and management platform for hybrid cloud. The updates include hybrid AI capabilities, support for more cloud providers, and a bare metal beta for running Anthos locally without a hypervisor.
---
C++ Picked Out By TIOBE - An Odd Choice?


10 Sep

|

Sue Gee




The TIOBE Community Index which ranks programming languages in terms of their popularity is updated once per month. The headline for September 2020 reads "Programming Language C++ is doing very well".
---
Focus On JetBrains Kotlin 1.4


09 Sep

|

Mike James



The latest version of Kotlin, which is now the officially preferred programming language for Android, was recently released. JetBrains has announced a 4-day online event about Kotlin 1.4 taking place on October 12-15, 2020.
Other Articles
Book Review
---
Data Science Tools
Wednesday 16 Sep
Author: Christopher Greco
Publisher: Mercury Learning
Pages: 206
ISBN: 978-1683925835
Print: 1683925831
Kindle: B088QL2MHJ
Audience: Data statisticans
Rating: 4
Reviewer: Kay Ewbank
This book introduces some of the products and tools that can be used to carry out statistical analysis of datasets to discover more about underlying trends.
Featured Articles
---
Spreadsheets Are Special
Janet Swift
Don't dismiss the spreadsheet. It not only brought programming to the masses, but was an early entry into rapid application development, functional programming and an easy and natural approach to parallel programming, reactive programming and cellular automata.
---
The Programmers Guide To Kotlin - Destructuring
Mike James

Destructuring - it sounds like something to avoid, but in practice it is really useful. In this extract from The Programmers Guide To Kotlin by Mike James, we look at destructuring and the spread operator.
---
Seymour Cray and 20th Century Super Computers
Historian
The fascination for fast cars has a parallel in the search for the ultimate in computer performance. If you lust after a multicore monster you will certainly understand the drive to build a super computer.
---
JavaScript Async - Service Workers
Ian Elliot
ServiceWorkers are the key ingredient you need to implement PWAs - Progressive Web Apps. In this extract from my recent book on JavaScript Async we put the pieces together and show how to use a ServiceWorker.
---
Hashing - The Greatest Idea In Programming
Mike James
Although it is a matter of opinion, you can't help but admire the idea of the hash function. It not only solves one of the basic problems of computing - finding something that you have stored somewhere - but it helps with detecting file tampering, password security and more.
Unhandled Exception!
Old Days 2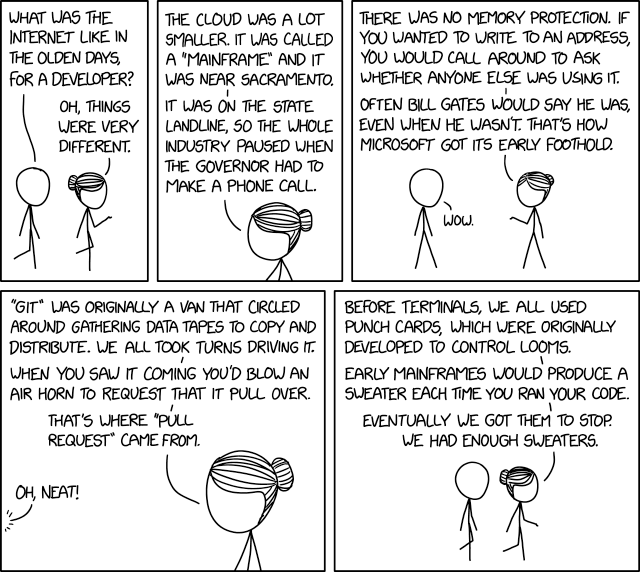 Click for larger image
It is wonderful - like a stream of consciousness poem. The early days had their moments. I can remember nearly freezing to death sitting on the steps of the computer center waiting for it to open so I could see my printout, correct the, usually minor, errors and throw the punch cards back in. Hypothermia was a small price to pay for an extra run in the day. Of course, the extra sweater kept you warm the next day.
More cartoon fun at xkcd a webcomic of romance,sarcasm, math, and language
---
Book Watch

Follow Book Watch on Twitter

Book Watch is I Programmer's listing of new books and is compiled using publishers' publicity material. It is not to be read as a review where we provide an independent assessment. Some but by no means all of the books in Book Watch are eventually reviewed.
---
Elements of Game Design (MIT Press)
Friday 18 Sep
This textbook by well-known game designer Robert Zubek introduces the basics of game design, covering tools and techniques used by practitioners in commercial game production. It presents a model for analyzing game design in terms of three interconnected levels—mechanics and systems, gameplay, and player experience. The book explains how novice game designers can use these three levels as a framework to guide their design process. It emphasizes models and vocabulary used in industry practice and focuses on the design of games as dynamic systems of gameplay.
<ASIN:0262043912>
---
Quantum Computing (Pragmatic Bookshelf)
Wednesday 16 Sep
With the subtitle "Program Next-Gen Computers for Hard, Real-World Applications", This book explains how quantum computing works, and shows how to write programs that run on the IBM Q quantum computer. Author Nihal Mehta shows how to introduce quantum effects in your programs, and how to apply quantum algorithms to solve real world problems. The book also looks at how to identify problems suitable for quantum computers, and how to interface with a quantum computer from within applications.
<ASIN:1680507206>
---
Tiny Python Projects (Manning)
Monday 14 Sep
This book aims to teach Python through the creation of 22 bitesize programs. In each tiny project author Ken Youens-Clark teaches a new programming concept, from the basics of lists and strings right through to regular expressions and randomness.The activities in this book teach Python fundamentals through puzzles and games. Youens-Clark aims to entertain while teaching elements such as text manipulation, basic algorithms, and lists and dictionaries.
<ASIN:1617297518>
---
Sid Meier's Memoir (W. W. Norton)
Friday 11 Sep
Over his four-decade career, Sid Meier has produced some of the world's most popular video games, including Sid Meier's Civilization, which has sold more than 51 million units worldwide and accumulated more than one billion hours of play. His book, subtitled "A Life in Computer Games", is the story of an obsessive young computer enthusiast who helped launch a multibillion-dollar industry. Writing with warmth and ironic humor, Meier describes the genesis of his influential studio, MicroProse, founded in 1982 after a trip to a Las Vegas arcade, and recounts the development of landmark games, from vintage classics like Pirates! and Railroad Tycoon, to Civilization and beyond.
<ASIN:1324005874>
---
Learning C# by Developing Games with Unity 2020, 5th Ed (Packt)
Wednesday 09 Sep
With the strap line, "An enjoyable and intuitive approach to getting started with C# programming and Unity", this book is an updated edition in which Harrison Ferrone demonstrates C# programming from the ground up without complex jargon or unclear programming logic, while building a simple game with Unity. This fifth edition has been updated to introduce modern C# features with the latest version of the Unity game engine, and a new chapter has been added on intermediate collection types.
<ASIN:1800207808>
More Book Watch
---
Previous Book Watch.
Follow Book Watch on Twitter.
Publishers send your book news to:
bookwatch@i-programmer.info
---