Programming News and Views
Send your programming press releases, news items or comments to: NewsDesk@i-programmer.info
---
Apache Arrow 2 Improves C++ and Rust Support


29 Oct

|

Kay Ewbank



There's a new release of Apache Arrow with improvements to the support for C++ and Rust, particularly in support for Parquet.
---
DataCamp For Hands-On Learning


28 Oct

|

Sue Gee



DataCamp, the course provider with its focus firmly on data science, has a new logo and a whole new look. It's a good time to see what it has to offer businesses and individuals.
---
Developers Finally In Revolt Against Apple


28 Oct

|

Mike James



The Epic v Apple legal wrangle seems to have started a long overdue revolt against the Apple App store. Can the Coalition for App Fairness make a difference?
---
Google Data Studio Improves Analytics


28 Oct

|

Kay Ewbank




Google Data Studio has been updated with a new connector for Google Surveys, and a new, more intelligent Google Analytics that uses machine learning to automatically bring insights to the surface.
---
MDN Web Docs Call For Participation


27 Oct

|

Sue Gee



There's a new editorial strategy for MDN Web Docs and a radical platform change is on the cards. Meanwhile the call has gone our for the community to rally round and help out with day-to-day tasks on MDN.
---
Neo4j Announces Graph Machine Learning Framework


27 Oct

|

Kay Ewbank



Neo4j has announced a graph machine learning framework that the developers describe as making advanced graph-based machine learning techniques more accessible.
---
Introducing The Android Kotlin Developer Nanodegree


26 Oct

|

Nikos Vaggalis




The old Android Java Developer Nanodegree is shelved, making way for the new kid on the block - Kotlin
---
Node.js 15 Improves Rejection Handling


26 Oct

|

Kay Ewbank



Node.js, the JavaScript runtime, has been updated with support for npm 7, better handling of rejections, and an experimental abort controller.
---
Tesla Autopilot Easily Confused By Phantom Images


25 Oct

|

Mike James



Security researchers have demonstrated that Tesla's self-driving software can easily be fooled into thinking that brief projections of objects are real and so cause it to behave incorrectly. This is worrying, but how worrying?
---
October Week 3


24 Oct

|

Editor



Our weekly digest lists the week's news, new titles added to our Book Watch Archive and our weekly book review. This week's featured articles are an extract from Programmers Guide to Theory about NP complete problems by Mike James and an exploration of binary trees in JavaScript from Ian Elliot.
---
MongoDB Atlas Adds MultiCloud Cluster Support


23 Oct

|

Kay Ewbank



MongoDB Atlas has been updated with support for multi-cloud clusters. The developers have also updated MongoDB CLI and say it now offers 'Atlas performance advice on your terminal'.
---
Staying Productive As A Solo Programmer


23 Oct

|

Editor



Many developers work as alone as a single-person team. While there are many advantages to this - no need for meetings or other distractions, it can be difficult to maintain the momentum. Here's a look at what it takes to keep a solo programmer productive!
---
Lightstep Adds New GitHub Action


22 Oct

|

Kay Ewbank



Lightstep has announced a new GitHub action, Lightstep Pre-Deploy Check, designed to help developers be proactive about ensuring the quality and performance of their software before it's actually deployed.
---
Introducing the DigitalOcean App Platform


22 Oct

|

Nikos Vaggalis



With DigitalOcean's new App Platform, setting up and deploying an app to the cloud as easy as point and click.
---
Android Studio 4.1 - No Relief In Sight


21 Oct

|

Mike James



A new version of any IDE is always an event, but Android Studio's state reflects the current mess that Android developement is in. I look forward to each new release in the hope that something has been done. The sad news is that Android Studio 4.1 brings no relief to worried Android programmers.
---
Eclipse IoT Developer Survey 2020


21 Oct

|

Harry Fairhead



The Eclipse Foundation's IoT Working Group has released the results of its 2020 IoT Developer Survey. Agriculture emerges as the leading industry focus area and security as the top concern. Two thirds of respondents either experiment with, use or contribute to open source projects.
---
Apache Isis Updated With New Programming Model


20 Oct

|

Kay Ewbank



Apache Isis has been updated with improvements, including a new programming model for action parameter negotiation, and a simplified command service.
---
Pi Compute Module 4 - Time to Take Industrial Pi Seriously


20 Oct

|

Harry Fairhead



It's been a long wait, but at last the Raspberry Pi Compute Module 4 is available and it's quite a departure from earlier compute modules. Is this enough to get the Pi a place at the serious IoT table?
Other Articles
Book Review
---
Elements Of Game Design (MIT Press)
Tuesday 27 Oct
Author: Robert Zubek
Publisher: MIT Press
Pages: 256
ISBN: 978-0262043915
Print: 0262043912
Kindle: B087PL89PY
Audience: would-be game developers
Rating: 4.5
Reviewer: Kay Ewbank
Is developing a computer game very different than working on a different sort of app, and can you learn how to do it from a book?
Featured Articles
---
Edsger Dijkstra - The Poetry Of Programming
Mike James
Edsger Dijkstra was one of the first people to worry about what a program should be and he elevated the act of programming to both an art and a science. If you only know one Dijkstra quote, it should be: "computer science is no more about computers than astronomy is about telescopes".
---
JavaScript Canvas - Blobs & Files
Ian Elliot
Blobs and files, sounds interesting and useful if you want to load or save graphics files or create them dynamically. In this extract from my new book on JavaScript Graphics, we look at the basics of what makes a blob a file.
---
WPF .NET Core - Routed Events
Mike James
Routed events are a key feature of WPF. We look at bubbling and tunnelling and how to create your own routed event and how WPF changes the underlying mechanics of Windows.
---
Programmer's Guide To Theory - NP Complete
Mike James
One of the most amazing ideas in computer science is that some NP problems are complete in the sense that they represent all of the problems in NP. Given how different NP problems can seem, how can this be? This is an extract from Chapter 17 of my recent book on theory.
---
JavaScript Data Structures - The Binary Tree
Ian Elliot

Binary trees in JavaScript? Easy with the right storage mapping function. Find out how to code a binary tree right up to a depth-first traversal.
Unhandled Exception!
Scientist Tech Help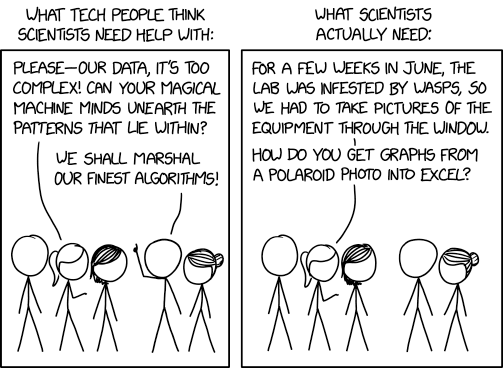 Click for larger image
So, so true. Not restricted to scientist tech help either. We often get hold of the wrong idea when it comes to providing any software. When we do find out what the user wants, it's often a big disappointment. I suggest this is why we hate requirements analysis. In an ideal world we should just deliver the toy that pleases us the most...
More cartoon fun at xkcd a webcomic of romance,sarcasm, math, and language
---
Book Watch

Follow Book Watch on Twitter

Book Watch is I Programmer's listing of new books and is compiled using publishers' publicity material. It is not to be read as a review where we provide an independent assessment. Some but by no means all of the books in Book Watch are eventually reviewed.
---
C Programming For Dummies, 2nd Ed (Wiley)
Wednesday 28 Oct
This 2nd edition covers everything you need to begin writing programs, going logically through the development cycle from initial design and testing to deployment and live iteration. Dan Gookin covers the do's and don'ts of good clean writing and how to produce the basic―and not-so-basic―building blocks of source code.
<ASIN:111974024X>
---
SQL Server on Azure Virtual Machines (Packt)
Monday 26 Oct
This book begins by introducing you to the SQL portfolio in Azure and takes you through SQL Server IaaS scenarios. Authors Joseph D'Antoni et al then go on to explain the factors that you need to consider while choosing an OS for SQL Server in Azure VMs. The authors also explore different VM options and deployment choices for IaaS and understand platform availability, migration tools, and best practices in Azure.
<ASIN:1800204590>
---
A Human Algorithm: How Artificial Intelligence Is Redefining Who We Are (Counterpoint)
Friday 23 Oct
This book examines the impact intelligent technology will have on humanity. International human rights attorney Flynn Coleman argues that it is critical that we instill values, ethics, and morals into our robots, algorithms, and other forms of AI. Equally important, we need to develop and implement laws, policies, and oversight mechanisms to protect us from tech's potential threats.
<ASIN:1640094288>
---
Design and Build Great Web APIs (Pragmatic Bookshelf)
Wednesday 21 Oct
This book covers the essential skills needed to quickly design, build, and deploy quality web APIs that are robust, reliable, and resilient. Author Mike Amundsen starts from initial design through prototyping and implementation to deployment of mission-critical APIs. The book includes more than a dozen open-source utilities and common programming patterns you can apply right away. It also covers the skills needed to create RESTful HTTP-based APIs
<ASIN:1680506803>
---
Essential C# 8.0 7th Ed (Addison-Wesley)
Monday 19 Oct
This is a no-fluff guide to C# 8.0 for programmers at all levels of experience. Well known author Mark Michaelis presents a tutorial and reference for the entire language. This edition adds discussions of null reference types, indices and ranges, static local functions, and enhanced pattern matching. The book includes key C# 8.0 enhancements, succinct examples to illustrate key constructs, and new coding guidelines for minimizing bugs and writing code thats easier to evolve.
<ASIN:0135972264>
More Book Watch
---
Previous Book Watch.
Follow Book Watch on Twitter.
Publishers send your book news to:
bookwatch@i-programmer.info
---