Written by Harry Fairhead
Tuesday, 01 March 2022
It is 10 years since the Raspberry Pi first went on sale. The initial 10,000 units sold out in less that two hours, causing its two retailers' websites to crash. Since then, over successive models, the Raspberry Pi has seen a 40-fold improvement in performance, but has retained its original entry-level price of $35.
I concluded my news item on that initial Raspberry Pi Stampede with the comment that I'd failed to buy a unit before stock was exhausted. I've made up for that mistake since with dozens of purchases and tens of projects spanning all generations of Pi. I've also written four books about it, five when you take into account that the original Raspberry Pi IOT in C has been superceded by a 2nd Edition.
The Raspberry Pi has had a remarkable impact - and that was of course what is was intended to do. Designed by Cambridge engineers and computer scientists, Raspberry Pi has sold more than 40 million units, created a market worth $1 billion and had a huge effect on K12 education, particularly in the UK.
According to the University of Cambridge, where the Raspberry Pi was initiated the motivation behind the project was to increase the number and calibre of students applying to study computer science at Cambridge. The idea was to build a computer was to give young people access to programmable hardware at a low price, and to equip a new generation with the coding skills that are so important in today's economy.
Birthdays are a time for reflection and in this video Eben Upton tells his, very personal, story behind the Raspberry Pi.
Upton explains that it was his early exposure to computing with the Acorn Electron, and subsequently with a secondhand BBC Micro, that inspired him to apply to Cambrige University to study computer programming, where he found that all his fellow students had followed a similar route of hobbyist computing using micros such as the ZX Spectrum, Commodore 64, BBC Micro and Electron. Later, when he joined the Cambridge Computer Science faculty and became Director of Studies, he was shocked to discover how few students were applying for Computer Science. By this time games consoles and smartphones had replaced the program-it-yourself micros and Upton came to the conclusion that the removal of home computers accounted for the decline in interest in studying computer programming and engineering. His hypothesis was that providing a computing experience would restore student numbers. In the video Upton gives statistics that suggests he was right:
We've gone from a little over 200 people applying for a little under 100 places, roughly a ratio of 2:1, to over 1,400 people last year. Computer Science has gone from one of the least competitive subjects [at the University of Cambridge] to one of the most competitive subjects.
OK, there have been other factors accounting for the surge in popularity of Computer Science over recent years, but I do think Raspberry Pi can take some of the credit in the UK given the Raspberry Pi Foundation's efforts in providing teachers with training required to use Raspberry Pis in the classroom and in encouraging coding clubs,
Looking to the future we recently carried the news that there are plans to take Raspberry Pi Ltd, the commercial side that makes and sells the hardware public with an IPO on the London Stock Exchange, hoping that this wouldn't having any negative impacts on the Foundation's ability to continue with this educational focus.
For his part Upton hopes that by the end of the next decade the Raspberry Pi will have fulfilled its mission of putting affordable computing in the hands of people all over the world and that by the time of its 20th anniversary there will be nobody in the world who hasn't had the opportunity to have a low-cost, high-performance, general-purpose computing experience.
More Information
Happy Birthday to us by Eben Upton
Related Articles
Raspberry Pi Goes Public And For Profit?
Raspberry Pi Chip Shortages Cause Price Hike
Raspberry Pi Most Popular Industrial IoT Device!
Pi Compute Module 4 - Time to Take Industrial Pi Seriously
Raspberry Pi 4 Sets New Performance High At Same Cost
To be informed about new articles on I Programmer, sign up for our weekly newsletter, subscribe to the RSS feed and follow us on Twitter, Facebook or Linkedin.
---
Apache Pekko 1.0 Released
07/11/2023
Apache has released version 1 of Pekko, an open source toolkit and runtime simplifying the construction of concurrent and distributed applications on the JVM. Pekko is a fork of Akka and has come abou [ ... ]
---
Chatbots Hallucinate - Word Of The Year
25/11/2023
The propensity of AI-powered chatbots to provide misinformation is referred to as "hallucinating" and is something that has come to popular attention - to such an extent that the verb "hallucinate" ha [ ... ]
More News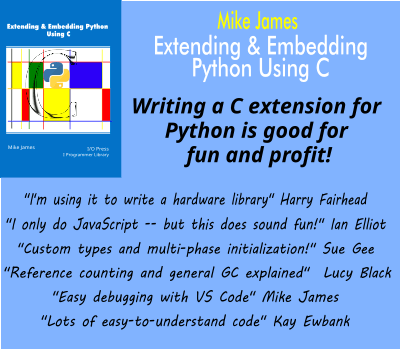 Comments
or email your comment to: comments@i-programmer.info
<ASIN:1871962633>
<ASIN:1871962668>
<ASIN:1871962641>
<ASIN:187196265X>
Last Updated ( Tuesday, 01 March 2022 )